Where it all began...
The Rev. Anthony Jacob Henckel emigrated from Germany in 1717 with his wife Mary Elizabeth and their eight children, settling in Germantown, PA near Philadelphia. The spelling of their last name was changed from Henckel to Hinkle in 1797. In 1803, Rev. Henckel's great-grandson Anthony and his wife Catherine Nancy Frey moved their family to Robertson County in northern middle Tennessee. The last of their eight children, Andrew Hinkle, was born in 1815 and is recognized as the founder of Hinkle Chair Company.
Andrew Hinkle was a farmer, but he and his family supplemented their income by making ladder-back chairs. During the hot summer months, the family would hand-carve chair frames out of oak, hickory and beech. During the winter months when the crops had been harvested and the fields were laid by, the family worked indoors weaving the seats using hand-cut strips of various hardwoods and assembling the finished chairs. Andrew and his wife Catherine had twelve children; among them was Henry Ywell who was born in 1860. Henry Hinkle continued in his father's footsteps, farming during the growing season and producing ladder-back chairs during the cold winter months to help support the family. Henry and his wife Eva had five children, including Willie Bell who was born in 1896.
A growing company...
Willie Bell Hinkle wed Ellie Mae Clinard in 1915; they continued the family tradition of farming and making chairs. As demand for their products grew, the family gave up farming in 1932 to produce chairs full-time. A small country store and a tobacco barn served as a makeshift factory and as production increased rocking chairs were added to the line of products. William Winford Hinkle was born to the couple in 1917.
In 1946, William (Cat) Winford Hinkle Sr. returned from serving in World War II and bought the business from his father. He married Ora Sue Smith in 1949 and they had three children. By then, Hinkle Chair Company® had sixteen full-time employees and could produce over two hundred chairs a day. The operation moved from its cramped facilities into two buildings which were used exclusively for manufacturing.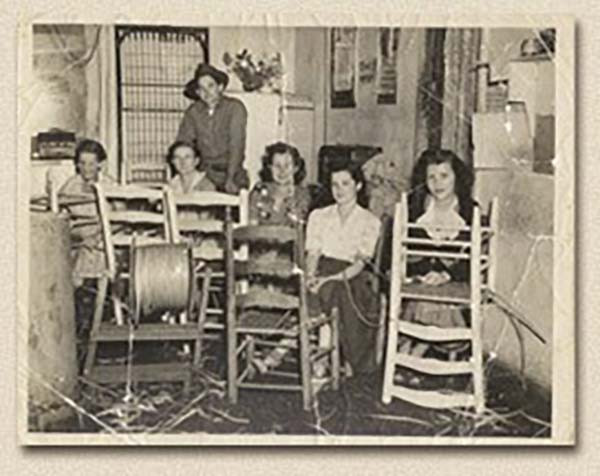 Six generations of excellence...
In the 1980s, as the company grew, several new buildings were added including a showroom and a new finishing system. New styles of rockers and chairs were added to the product line along with dining room tables, hutch, and buffets. In 1990 after the death of his father, William Hinkle Jr. took over as CEO of the company, and today along with his brother Jeff and sister Diane, Hinkle Chair Company® is still a family-owned and operated business. A sixth generation was welcomed to the company in 2014 when William's son, Brad Hinkle came on board.
Quality and value for almost two centuries...
In 1996, the company broke ground on a new production building and followed in 1997 with a state-of-the-art finishing facility. These additions have enabled us to increase our rocker production as well as offer new and exciting furnishings for your home.
Remember, whenever you purchase your next rocking chair, insist that it is a genuine Hinkle rocker. The quality and comfort of your Hinkle products are carved out of over 189 years of tradition.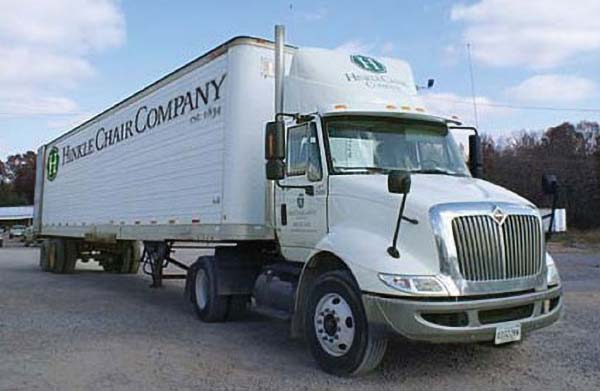 A front row seat to history
More than just a chair, we've been helping families like yours create memories for over a 189 years and counting...
1717

The start...

The Rev. Anthony Jacob Henckel emigrated from Germany in 1717 with his wife Mary Elizabeth and their...

1776

Declaration of Independence

Adopted by the Continental Congress on July 4, 1776, the 13 American colonies severed their political...

1797

The Hinkle Name

The spelling of their last name was changed from Henckel to Hinkle in 1797.

1803

Tennessee bound

In 1803, Rev. Henckel's great grandson Anthony and his wife Catherine Nancy Frey moved their family...

1812

War of 1812

The War of 1812 was a conflict fought between the United States and its allies, and the United Kingdom...

1815

The birth of a founder

The youngest of eight - Andrew Hinkle, was born in 1815 and is recognized as the founder of Hinkle Chair...

1834

Hinkle Chair Company®

Andrew Hinkle began Hinkle Chair Company® weaving the seats using hand cut strips of various hardwoods...

1860

Henry Hinkle was born

Henry Hinkle continued in his father's footsteps, farming during the growing season and producing ladder...

1861

Civil War begins

The American Civil War was a civil war in the United States from 1861 to 1865, fought between northern...

1896

Willie Bell Hinkle was born

Born in 1896, Willie Bell would eventually wed Ellie Mae Clinard in 1915. They continued the family...

1914

World War I begins

The start of World War I.

1917

William Winford Hinkle was born

William Winford Hinkle was born in 1917 just prior to the close of World War I and before the onset of...

1939

World War II begins

World War II was the biggest and deadliest war in history, involving more than 30 countries.

1932

The first Hinkle factory...

 A small country store and a tobacco barn served as a makeshift factory and as production increased...

Passing the torch down six generations to craft quality products and lasting memories.

William Hinkle Jr.

Short intro goes here.

Diane Johnson

Short intro goes here.

Jeff Hinkle

Short intro goes here.

>